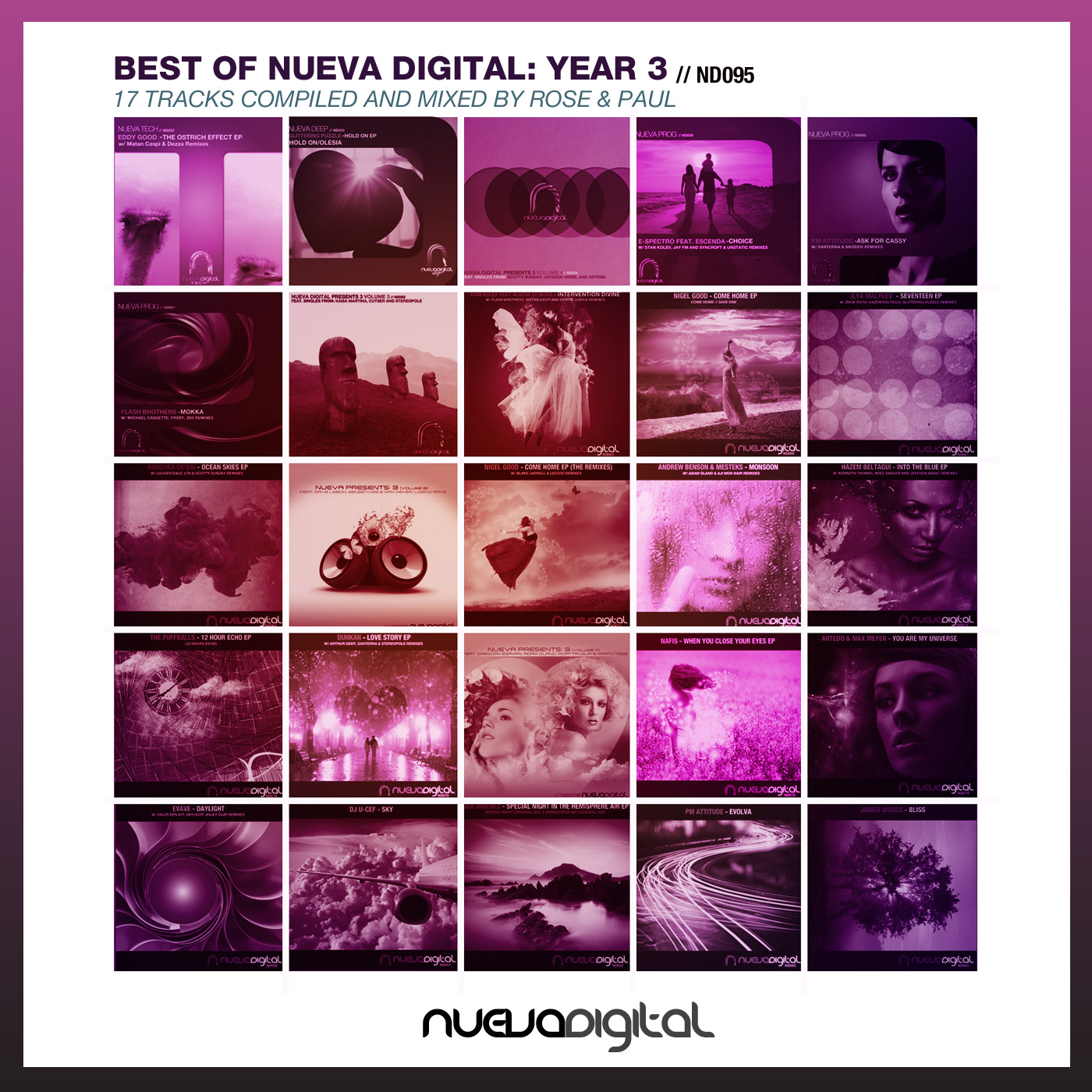 Nueva Digital is extremely excited to celebrate our 3 year milestone of quality 
releases with our 'Year 3′ compilation, ND095! Building off the previous years' 
successes and support from major global DJ's, the future continues looking brighter 
with each new release and artist we find. We want to showcase some of the gems from 
this past year all in one package. So with much love from your dedicated group here 
at Nueva, here is 'Year 3′ for your pleasure!
Kicking us off, we have progressive/deep house master (and no stranger here at Nueva!) 
Arthur Deep's smooth, loungey remix of Dunkan's 'Love Story' to groove to. 
Stan Kolev brings his remixing A-game to give a spectacularly moody remix of 
E-Spectro's 'Choice (feat. Escenda)'. From the successful 'Montreal' remix EP, 
producer Scotty Sunday provides a classic progressive take on Ilya Malyeuv's original. 
If you missed it the first time around, you'll definitely want to check out the 
well-toured and released artist Matan Caspi, and his classic groovy progressive 
remix of Eddy Good's 'Analysis Paralysis'. Industry veteran Charlie May brings 
the futuristic tech in his remix of Matao's Perfectro, followed by the driving 
melodies of Nafi's 'When You Close Your Eyes'. With enough melodic emotion to make a 
concrete boulder feel something, LTN brings the beat with his Sunrise remix of 
Anushka De'Sai's 'Far & Close'. Artist Santerna brings us a gritty, dirty 
interpretation to the highly popular 'Ask for Cassy' track by PM Attitude's.
If the first half got you moving in your chair, the second half will knock your socks 
off! Skylight's 'Daylight' remix of Evave's original is a gorgeous web of melodies, 
followed up by PROFF's debut with Nueva with his glittering remix of the Flash 
Brother's 'Mokka' track. Jayeson Andel's 'Bokeh' is a picture-perfect progressive 
track that rocks as hard as any peak time track could! Flash Brothers' 'Mokka' just 
seem to inspire amazing remixes, so we couldn't resist including a second one, this 
one from Michael Cassette. Taking a deep dive, Kenneth Thomas brings us spiraling 
through the clouds with cooler prog stabs in his remix of Hazem Beltagui's 
'Into The Blue'. Zack Roth's 'Leaving Dancefloor' remix of Ilya Malyeuv's original 
is a blend of frenzied rush atmospheric goodness that takes the breath away. 
Wrapping up the last couple tracks (sorry, we couldn't resist!) is Blake Jarell's 
feel-good remix of prolific artist Nigel Good's 'Come Home' track. Artedo & Max 
Meyer's 'You Are My Universe' is a swirling and huge progressive trance hit, and 
finally we close out with PM Attitude's original mix 'Evolva'. If this tech-y 
futuristic progressive masterpiece doesn't shoot you into outer space, you may need 
to get your hearing checked!
We'd like to express a huge thanks from everyone here at Nueva Digital to everyone 
who has made these top tier releases possible! As a bonus, we are including an 
expertly crafted DJ mix of all the above tracks from the Nueva's founding duo, 
Audi Paul & Scott Rose. Best wishes for all of you!