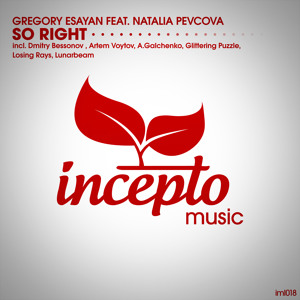 Release Info: 
Another return to Incepto Music. 
Gregory Esayan was long in search of inspiration and the Muses, that would be able to transfer all of its feelings. 
And this one moment has come – "So Right" with the inimitable and charming Natalia Pevcova. 
We are pleased that the talent of Gregory and tenderness of the voice of Natalia gathered in this release such great artists as: Dmitry Bessonov (Colorize,Arisa Audio), Lunarbeam (Macarize), Glittering Puzzle (Black Hole,Nueva), A.Galchenko (National Sound), Artem Voytov (Bomba Records) and Losing Rays (Morphosis Recordings,Balkan Delights). 
We listen?…So Right!
Released by: Incepto Music 
Release/catalogue number: IML018 
Release date: Aug 14, 2012
Artem Voytov Mix:
Lunarbeam Mix:
Glittering Puzzle Dub Mix: