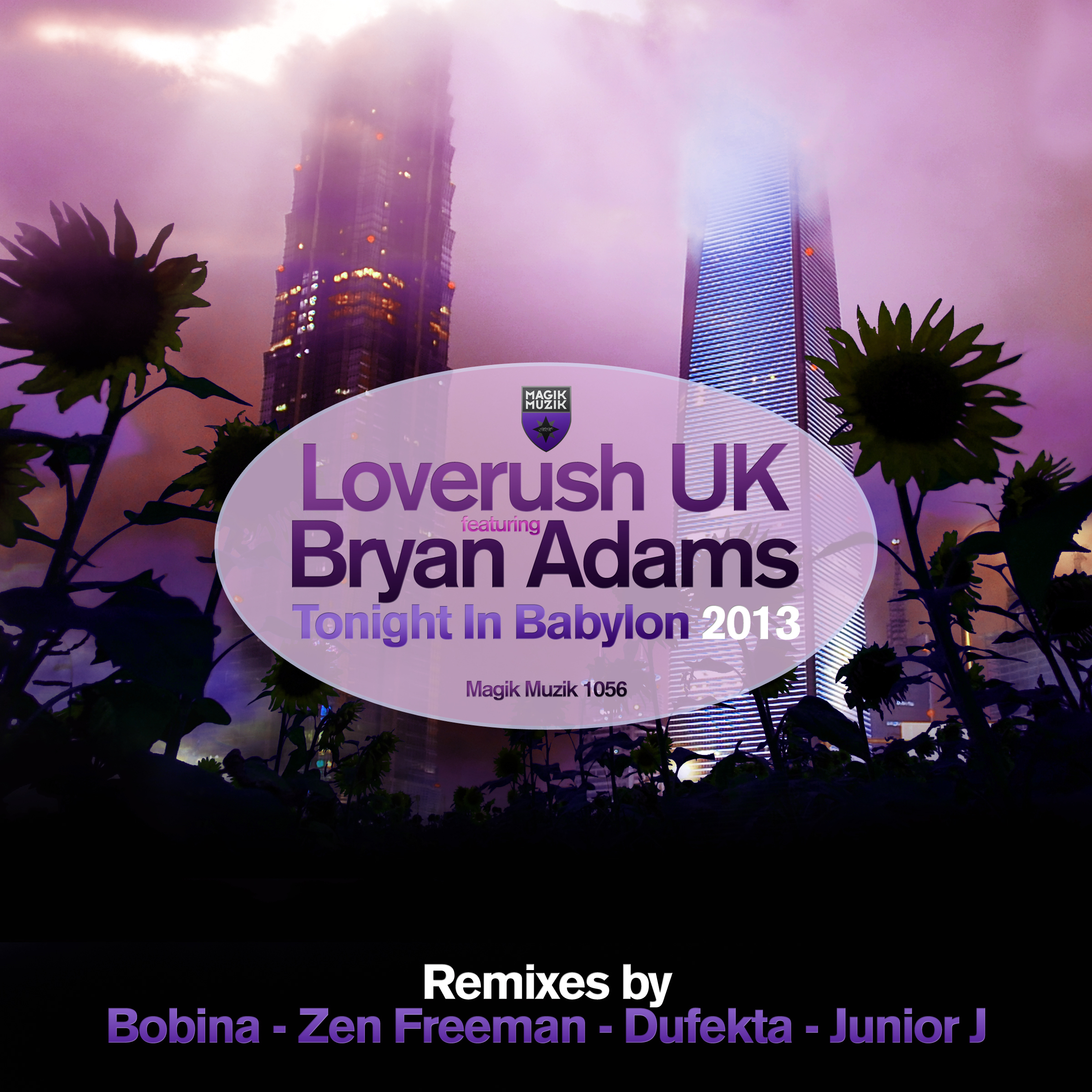 Loverush UK featuring Bryan Adams – Tonight In Babylon (Township Rebellion Remix)
Loverush UK featuring Bryan Adams – Tonight In Babylon (The Storks Remix)
Loverush UK featuring Bryan Adams – Tonight In Babylon (Andy Duguid Remix)
Magik Muzik 1056-0/1065-0 
Loverush UK featuring Bryan Adams – Tonight In Babylon
Loverush UK!'s sound personifies its melodic signature of 'progressive electronica, with a touch of euphoria'. And who's to argue with that once you've heard "Tonight In Babylon" featuring Bryan Adams? The previously released 2013 remix and Protoculture remix already rocked venues the world over, now followed by a massive set of brand new, top of the line remixes.
Loverush UK! have continued to soar across the world of dance. With massive hits like "Fountains Of Youth", recorded with Molly Bancroft, "5 Reasons" with Sylvia Tosun, "Give Me Your Love" with Carla Werner and a massive rework of their classic hit "Different World" with Shelley Harland they became a household name in the world of electronic dance music. In 2010 they produced the massive new Oakenfold smash "Firefly" featuring Matt Goss, which shot to No.1. They have remixed for the likes of Katie Melua, Kylie, JES, The Shrink Reloaded, ShockOLady, Tiff Lacey, Molly Bancroft, Andrea Britton and many more, not to mention the countless remixes they made for Black Hole Recordings and its sub labels.
For their new single "Tonight In Babylon", the two producers team up with Canadian rock singer-songwriter, musician and producer Bryan Adams. The multi-award winning Bryan Adams is known for world hits like "Run To You", "It's Only Love", "Summer Of '69″, "When You're Gone" which he recorded with Mel C and countless other hits. Bryan has also been active in the world of electronic dance and had is hit "Cloud Number Nine" remixed by Chicane, the act with which he later on recorded his hit "Don't Give Up".
Loverush UK's music has been described as 'progressive electronica, with a touch of euphoria' – exactly what's served with "Tonight In Babylon". Completely overhauling the known versions of the original release, "Tonight In Babylon" now starts a new life thanks to Bobina, Zen Freeman, Dufekta, and Junior J – offering every DJ on the planet the tailor-made track to show some love to his audience.
Released by: Black Hole Recordings 
Release/catalogue number: Magik Muzik 1056-1 
Release date: Aug 5, 2013