MAD DECENT BLOCK PARTY 2016 – INDIA DEBUT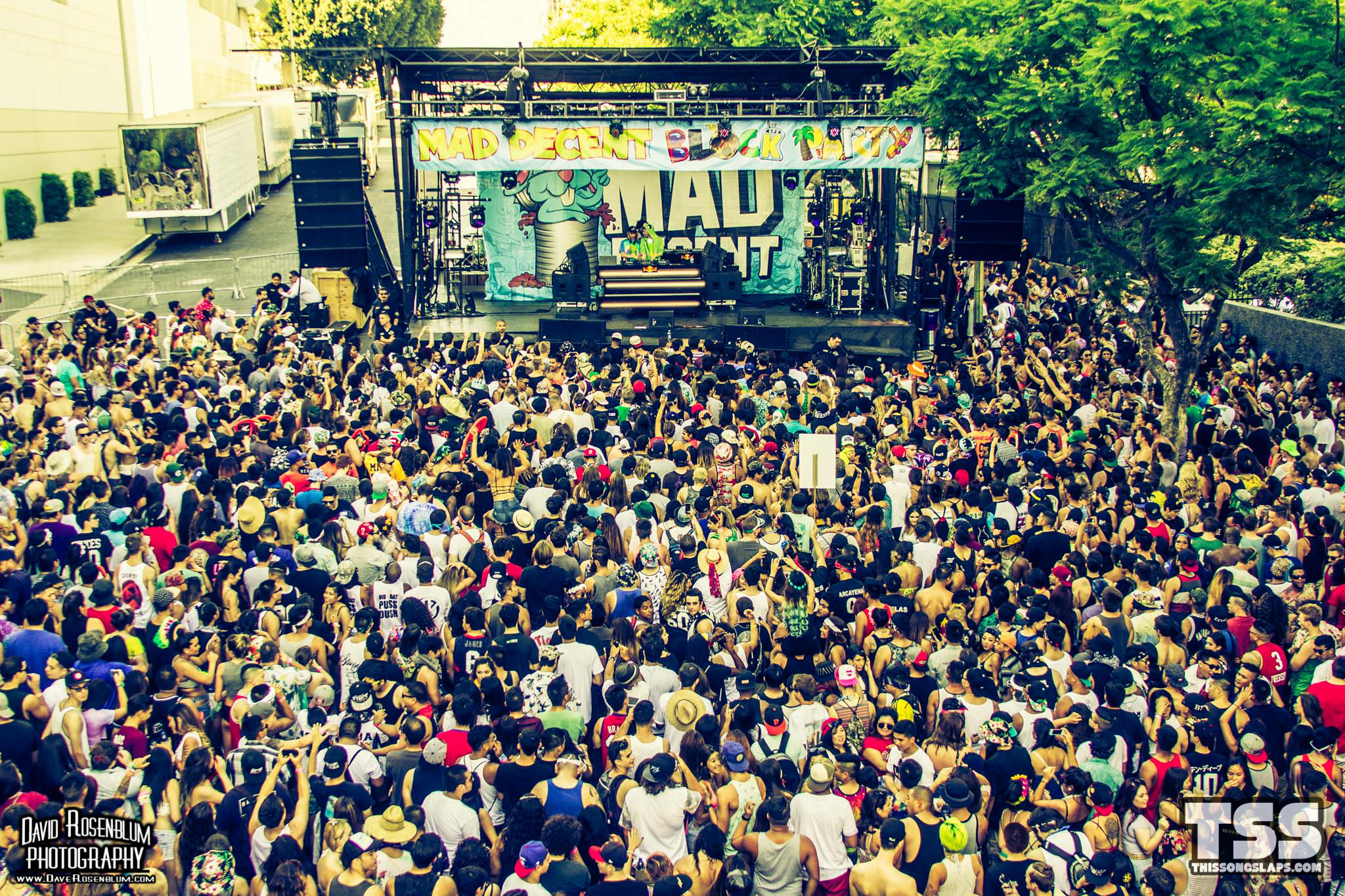 produced by Sunburn & Oji
f e a t u r i n g
MAJOR LAZER
GORGON CITY
BIG GIGANTIC
GIRAFFAGE
NUCLEYA
NAEZY VS DIVINE
+
MORE TBA
Tickets live on 21st January, 2016 at 12 noon on Sunburn.in
19 Feb – Mumbai  l 20 Feb – New Delhi l 21 Feb – Bangalore
January 2016 – Mad Decent, the American record label helmed by Grammy-nominated & AMA winning producer Diplo (producer to Madonna, Usher, M.I.A, Justin Bieber amongst others) will be bringing their wildly popular concert the Mad Decent Block Party to India this February.
The label has been responsible for kickstarting the careers of many up and coming electronic producers including Dillon Francis, Baauer (of Harlem Shake fame) and TroyBoi to name a few.
Mad Decent has been a pioneer in introducing eclectic and fantastic regional sounds from Brazil, Angola and famously Jamaica amongst many other countries into clubs and dancefloors across the world with the very first Mad Decent Block Party taking place in a street in Philadelphia, USA back in 2008.
Keeping in line with Mad Decent's aim of presenting the best of global pop and dance music to new audiences, the Indian edition of Mad Decent Block Party will feature MAJOR LAZER (known for their 2015 hit single, Lean On) as the headline act, British house-music duo Gorgon City, Big Gigantic whose sets are tinged with live electronica, hip hop and jazz, as well as American producer Giraffage amongst a host of local artists yet to be announced.
Commenting on bringing the Mad Decent Block Party to India, Diplo of Major Lazer said, "The Mad Decent Block party is when the whole neighborhood comes together to meet up outside and get loose. At Mad Decent we treat the whole city like one scene and we bring everyone out for music, food and just good energy all around. Being able to bring Mad Decent Block Party to India is a huge accomplishment, and all of us in Major Lazer are excited to be back in India bringing carnival to the fans".
States Karan Singh, CEO, Sunburn, "This is our 10th anniversary year which is a matter of celebration in itself as an Intellectual property. This season we intend to deliver differentiated products for our loyal dance music patrons.  Sunburn would never be where we are without them. This association with Mad Decent Block Party is the first step towards our mega celebrations."
Major Lazer plot their sophomore visit to India as part of the Mad Decent Block Party
Major Lazer is the dancehall-inspired project of Diplo, Jillionaire and Walshy Fire fronted by fictional Jamaican ex-commando, Major Lazer. Peace Is The Mission follows the group's previous two LPs, Guns Don't Kill People…Lazers Do and Free The Universe, both released to widespread critical acclaim. Founded in 2008 by Diplo and U.K. producer Switch, the group has toured worldwide and collaborated with Pharrell Williams, Bruno Mars and Ezra Koenig of Vampire Weekend along with dancehall legends like Busy Signal, Vybz Kartel and Elephant Man.
Over the last few years, Major Lazer has become a staple at all big music festivals around the world – Coachella, Lollapalooza, Pitchfork and has gained notoriety as a fun-filled stage act. As of 2016, the video for their smash hit single LEAN ON which was filmed in India and featured Danish singer MØ, crossed 1 billion views on Youtube and now holds the record for most streamed song on Spotify of all time – an achievement only a handful of artists can boast of.
Perhaps the most prominent name from Major Lazer, Thomas Wesley Pentz better known by his stage name 'Diplo' said of his association with India, "When I was 20 I traveled to India after a big earthquake on the Pakistani border in the state of Gujarat to help relief workers and working locally to rebuild areas and document the process with the Red Cross and other peacekeepers.
I had time to travel around and while this was 15 years ago, India was just starting to explode into an industrial powerhouse and it felt like cities were literally growing out of the ground. Giant Tata trucks clogged up the highways and sometimes I would sleep on my bike on a tea stand at 7 am when there were too many cars clogging up the highway. Between all this I traveled with a small keyboard and speaker to play and make music. I listened to albums under a mosquito net at night and dreamed of coming back again.
I never did until 15 years later on stage as Major Lazer and couldn't be more excited to return this year" .
A Major Lazer show is party central, whether at a concert or a festival. Expect confetti guns that shoot colourful confetti into the crowd, inflatable animals that bounce around, constant blowing of vuvuzelas and dancers twerking and shimmying their way across the stage to the sounds of moombahton, reggae, trap hip-hop and even pop. Diplo zorbing across the crowd is a classic sight at any big Major Lazer show.
Gorgon City, Big Gigantic, Giraffage, Nucleya & More
Mad Decent have recruited the ever popular UK house and garage duo, Gorgon City for the Indian edition of the Block Party. Gorgon City who are signed to Black Butter Records (the record label that gave us Rudimental) have gone from strength to strength releasing tracks featuring Clean Bandit and Grammy nominated singer MNEK as well as remixing legends such as Basement Jaxx.
Joining the lineup is American outfit, Big Gigantic who have amassed fans as they craftily and beautifully combine lush electronic beats with live saxophone and drums.
Charlie Yin, known to most as Giraffage is an American electronic music producer who has gained ample recognition for remixing the likes of Porter Robinson will be making his highly anticipated India debut at the Mad Decent Block Party in February too.
The champion of Indian drum 'n' bass & dubstep, Udyan Sagar a.k.a Nucleya will bringing his eclectic style and big tunes to the Mad Decent Block Party this February- expect punchy basslines and a high energy performance. Naezy vs Divine are also joining the lineup providing a healthy dose of beats and homegrown hip-hop.
Sunburn
The Sunburn Arena is a format created under the brand umbrella of Sunburn, a brand by Percept Live to cater to dance music enthusiasts in various cities and play host to some of the top DJs across the globe. Sunburn Arena today is one of the most awaited phenomenons across cities by the loyal dance music enthusiasts.  In the past years Sunburn Arena has hosted world renowned DJs like Hardwell, Tiesto, Martin Garrix, Afrojack, Deadmau5, Armin van Buuren, Swedish House Mafia, Dash Berlin and Avicii to local shores. These events are a prelude to the much-loved Sunburn Goa, one of the biggest music festivals globally. As a part of Sunburn 10th year celebrations, the Sunburn Arena will further be designed has been designed to provide the ultimate music experience.
Oji
Oji is somewhat of an enigma in the Indian music landscape. Having cropped up in the scene in 2013 and known for their hugely engaging promotional campaigns paired with relevant and excellent music curation (read Skream & Benga, Flux Pavilion, Major Lazer), Oji have proved time and again why they are one of India's best experience creators.  
On bringing the Mad Decent Block Party to Indian fans of dance music, Mikhail Mehra, co-founder of Oji said, "The Block Party is a mechanism to incite musical revolution. We sowed the seeds for this when we brought Major Lazer to India for their debut in 2014 & co-produced the music video for Lean On. Now, together with Sunburn, we're bringing the next phase of the revolution to India".
Notes to Editors:
Date: 19 February 2016
City: Bangalore
Tickets: http://maddecentblockparty.com / http://sunburn.in / http://in.bookmyshow.com
Date: 20 February 2016
City: New Delhi
Tickets: http://maddecentblockparty.com / http://sunburn.in / http://in.bookmyshow.com
Date: 21 February 2016
City: Mumbai
Tickets: http://maddecentblockparty.com / http://sunburn.in / http://in.bookmyshow.com
For media enquiries please contact:
Zeenia Mogal: zeeniamogal@hotmail.com
Jashoda Madhavji: jashoda.madhavji@gmail.com
About Sunburn
Sunburn is amongst the world's biggest music festivals. Sunburn Goa is ranked as big as Tomorrowland and Ultra Miami festival as per IMS APAC Business Report 2014. Started in 2007 as a 3 day music festial, Sunburn is an eclectic mix of music, entertainment, experiences, celebration and lifestyle that has seeded music tourism in India starting with Goa.  In the past seven years of its existence, Sunburn has brought together renowned Indian and international artists to entertain  hundreds of thousands of dance music lovers through its various formats that reach out to fans across India & Asia. Sunburn caters to a wide Indian and International audience and has positioned India as a prime dance festival destination to the world. Sunburn Campus, Sunburn Reload, Sunburn Arena, and Sunburn Goa, Sunburn Mumbai, and Sunburn Delhi, are some of the live event formats. Sunburn recently also launched 'Sunburn on Air'; its weekly podcast with special EDM sets created by the world's top EDM artists.   
Sunburn has extended and diversified beyond the festival in Goa into cities like Mumbai, Delhi, Bengaluru and Chennai. Other formats under the Sunburn umbrella include arena gigs, club gigs, campus gigs and the newest edition called 'Sunburn Reload' which are specially designed and customized to cater to as many dance music fans, giving them a piece of Sunburn in their very own town. Sunburn has brought down no less than 9 of the world's top 10 DJs over the past couple of years to India, including the likes of Swedish House Mafia, Tiesto, Avicii, Hardwell, Deadmau5, Armin van Buuren, David Guetta, Afrojack and Nicky Romero. Reaching out to all the yearning fans across the nation, Sunburn is all set to give its fans the best experience of their lifetime over and again.
About Percept Live
Percept Live, established in the year 2012, is the subsidiary of Percept Limited. It owns and manages all the intellectual properties created in the live entertainment, sports, fashion, digital and media space. Percept has been in the 'ideas' business for the past 30 years and has been instrumental in creating many legendary 'intellectual properties' in the past for its clients. The creation of a dedicated 'intellectual properties' business was but a further extension to Percept's existing knowledge and expertise in the entertainment, media and communications domain with a vision to convert path breaking innovative ideas into assets in order to create long term value for all its stakeholders.
Intellectual properties owned by Percept Live:
Sunburn – One of the world's biggest dance music festivals  

Bollyboom – World's first and biggest Bollywood dance music festival

Windsong –   A drive away, camping music festival

FLY – International live music festival cutting across multiple genres

Fight Night –India's first indoor boxing bouts between leading Indian and international boxers

Champions of the World – A platform that brings together the most celebrated super icons in the arenas of sports, cinema, music, business entertainment and entrepreneurship
Percept Live is a subsidiary of Percept Limited, an entertainment, media and communications company founded in 1984. With capitalized billings of INR 28.15 billion (FY'15), Percept, today is at an enviable leadership position with a team of over 1,000 people and 62 offices across India and the Middle East.