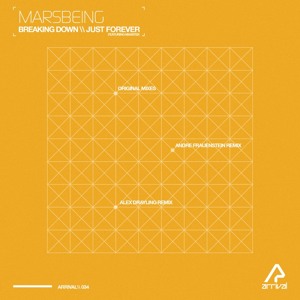 "Breaking Down" comes from Ukrainian artist Marsbeing, who has been fairly active on Arrival recently. It's time for his first EP on the label, and there are two supporting remixes, as well as a closing collaboration with MassTek. The original mix of "Breaking Down" quickly establishes an energetic synth line, and in the break a new additional theme lead is introduced, which goes extremely well with the underlying arpeggio melodies and powerful percussion elements.
South African artist and Arrival veteran Andre Frauenstein gives us his interpretation of "Breaking Down". Andre has been tearing up international dancefloors this past year as one half of the acclaimed peak-hour EDM duo Dirty Herz; he also continues to produce wonderful tracks as a solo artist in the melodic prog niche. Soothing pad lines as well as a calm beat introduce this track; later, a more dominant synth line appears, which spices up the overall tranquil soundscape.
Alex Drayling from Russia, who we saw on the Arrival release "Thailand", is up next with his remix of "Breaking Down". Intriguing synth stabs and vocal cuts are quickly added to the mix, and the powerful theme melodies from the original are added on top. An underlying arpeggio melody emerges later, giving the song extra detail.
Finalizing this package is "Just Forever", which is a collaboration between Marsbeing and Russian artist MassTek. A groovy combination of enjoyable synths appears a few minutes into the song, and the deep bassline follows nicely along with the comforting background melodies.