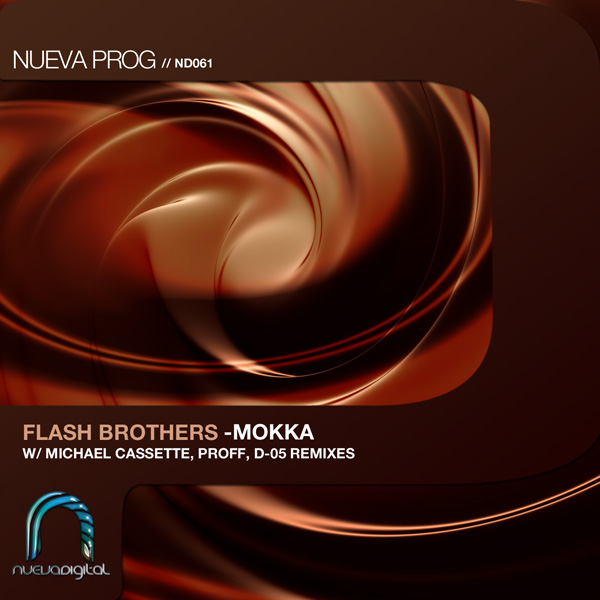 Nueva Digital is proud to present for it's 61st release one of the most anticipated releases to date in recent memory as we locked down enigmatic Israeli trio Flash Brothers and their single Mokka, with accompanying remixes from the very talented Michael Cassette, Russian Prog maestro PROFF and UK rising star D05!
Flash Brothers sculpted a truly genius Original that had us from the hypnotizing melodic start and slow stabbing strings and then finally a rhythmic bassline to die for. Mokka brings back what we've all been longing for in this industry: Real Prog House…that truly takes you on a journey till the last note.
Also making their Nueva debut are personal progressive heroes of ours and major Anjunadeep stars: Michael Cassette. MC takes the more atmospheric downtempo Original and turns this mother out with a truly mesmerizing display of punch and an arm hair raising breakdown that brings in an anthemic almost haunting melody. We will be hammering this one out for months to come.
Once again we welcome back one of our favourite producers PROFF, also no stranger to Anjunadeep as well as heading up the Label Intricate Records with fellow Russian friends. This is a busy man, so we find it amazing that he not only provides us with a gorgeous Extended Mix but also a fantastic alternate Intro Mix. Both Mixes exude that characteristic attention to detail that PROFF is known for while he creates one of the best 'Goose Bump' moment's we've had in quite a while.
Closing up this amazing release is yet another debut artist for Nueva hailing from the United Kingdom, D05 makes this a release that is truly hard to pick a favourite, at least for us that is. Bringing his signature 80′s cerebral sound to his Mix, D05 lulls you you along before bringing in one of the coolest breakdowns we've heard in a while. More of D05 to come on Nueva for sure!
Released by: NuevaDigital 
Release/catalogue number: ND061 
Release date: Sep 4, 2012